As your company grows, it becomes extremely important to have business checks for small business use. These differ from personal checks, as they usually link to your business bank account to pay for expenses. In many cases, you use the checks for your vendors, partners, or even to pay your employees.
But as a small business, which checks to order proves confusing, as there are different types available online. But in this article, we explain everything you need to know about ordering business checks. We even share a few styles (small business checks aren't one size fits all) available to get you started.
Different Kinds of Business Checks for Small Business
Generally speaking, two main types of small business checks exist – manual checks and computer checks. If your company runs smaller, manual checks might prove sufficient for your needs. With these checks, you must write all the details on the check by hand (which can be time-consuming).
If you're writing a lot of checks, generating them on the computer will be much more efficient. You'll use computer software, like QuickBooks or Microsoft Money, to create professional-looking checks with ease. No handwriting is required! You might find it easier to keep track of checks written on the computer, as everything gets stored online.
You have the chance to order these with or without detachable vouchers. This way, you have the ability to keep track of your finances even after you distribute the check.
However, most computer checks do not come with duplicate checks (otherwise known as carbonless checks). Instead, a copy of the data and information gets stored on your computer. Manual checks remain a bit different, as no online copy exists. Instead, a piece of carbonless paper that copies the information you write on the check gets generated.
We recommend checking out Checks Unlimited for your business check needs!
The Best Manual Checks
3-on-a-Page Checks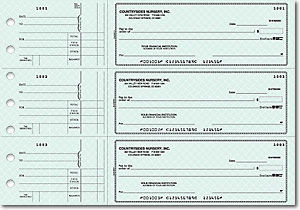 One of the most common types of manual checks is a Checks Unlimited. As its name implies, each sheet contains three checks, ready for tearing and issuing individually. These from Checks Unlimited fit a normal 7-ring binder.
Choose from a variety of patterns and colors, or add your own custom lettering or symbol.
Securiguard Checks
Securiguard checks resemble regular manual checks, except they come with a slew of features to prevent fraudulent activity.
For example, a reflective hologram print exists, and people don't have the ability to copy it. Printed with heat-sensitive ink with a microprint that breaks up if scanned, these security features greatly reduce the chance of counterfeit activity. So, you can keep your business (and data) safe.
The Best Computer Checks
Classic Laser Checks
As mentioned, computer checks make issuing and distributing checks a breeze. If you have a printer at home or at the office, we recommend you use these classic laser checks. The paper remains compatible with different types of accounting software, like Microsoft Money, Quickbooks, Simply Media/Simply Money, etc.
These laser checks come three to a page, which resembles the manual checks described above. Order them with or without a voucher stub.
Top of Page Checks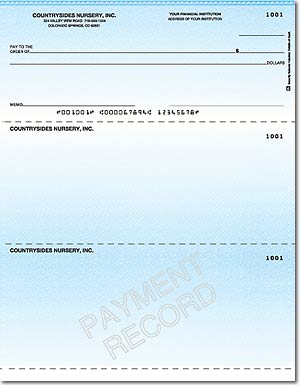 A top-of-page check serves as an alternative to the 3-on-a-page check. This style has the main check on the top with two check stubs on the bottom. In general, the employer saves one pay stub while the payee receives the other.
As with other checks, business owners buy these computer checks in different colors and patterns. So, get the ones that match the style and brand of your company!
Personal Checks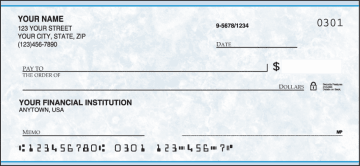 Everyone needs personal checks, including small business owners. Checks Unlimited offers a wide range of personal checks, including several bestsellers. As such, you can choose a style that suits your personality and looks professional.
Order Your Small Business Checks
Ordering business checks for small business use is an important step to starting and growing your company. And with sites like Checks Unlimited, you can order, personalize, and print your checks in just a few minutes. They're just one of the many essential tools and partners that can launch your business to success!
We hope you love the products we recommend! Just so you know, Talk District may collect a share of sales or other compensation from the links on this page.