Many people would love to travel more than they do. However, traveling can cost a considerable amount of time and money. Luckily, there are luxury travel hacks that can help you remain as "boujee" as possible. One easy tip you can implement right off the bat is using Hotwire for your flights, hotels, and rental cars.
However, there are other steps that can be taken to make sure that when you DO travel – you do so in style. This isn't just about trying to save on luxury trips to Europe – it might just be about a specific product or service that can make your trip feel a bit more posh and comfortable. Here are some luxury travel hacks that can help you feel a bit more "boujee" the next time you travel, even if you aren't draining your bank account.
The Right Luggage
You can read a luxury travel hacks blog for hours, but it isn't going to help you when you are forced to carry heavy luggage everywhere. In fact, it might end up messing up the entire "vibe" of your vacation. One great way to make sure you stay "boujee" during your trip is to purchase a durable duffle bag that isn't too hard to carry.
Take Advantage Of Discounts
Every city has its attractions, and there's a good chance that you want to experience as many of them as possible. One great way to do this is to take advantage of discounts that might help you save money for other activities. Or perhaps even find a few discounted activities to embark on. Groupon has an abundance of deals! This is one of those easy luxury travel hacks that doesn't require much time or effort.
Book Earlier
There are all sorts of websites and platforms that you can use to book your trip, but there's one important rule that you should always remember: book early! You can't expect reasonable prices if you are only booking your trip several days in advance.
If possible, try to book at least a month before you are traveling. If you are serious about saving, try to book 6 months ahead of time! This is one of many budget travel hacks that you won't regret!
Platforms like Kayak or Booking for deals that will help you stay boujee while traveling globally!
Package Deal
One way to save a significant amount of money is to book a package deal. In a package deal, your flights and your hotels are bundled up for maximum savings. This can definitely help you save money in the long run, so you can spend more on your actual trip!
Public Transportation Options
It's no secret that cabs and ridesharing can get expensive very quickly, especially in a city that you might not be familiar with. One way to experience luxury travel on a budget is to find out whether there are free buses or inexpensive trains that you can use to get around.
You should also consult with locals to make sure that you understand how the public transportation system works in that particular city, as well. You may also want to purchase some noise-cancelling headphones to enjoy yourself on the bus/train, as well.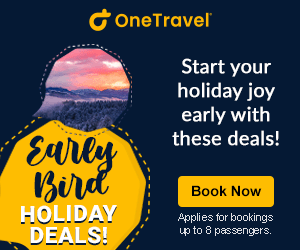 ~Advertisement~
Figure Out Finances
Okay, so you want to book a trip and have a great time, but on a budget! There's definitely nothing wrong with that. However, you should make sure that you understand that you have to keep an eye on your finances. You should figure out how much money you are willing to spend each day, and stick to it!
Splurge In The Right Way
Let's say that you are trying to figure out how to be bougie, but end up staying at a hotel that is a national chain. It's an affordable way to enjoy a trip, but are there luxury travel hacks to consider?
Yes, there are! What if you spent a couple of cheap nights at a hostel? You can then use the money you saved to splurge on an expensive hotel for a couple of days for your trip? It might not work for some, but this might be a great way to feel "boujee" without going over budget.
Spread The Word
At the end of the day, there are many hospitality workers that are here to help and accommodate. If you are traveling for a specific reason, you might find that spreading the word is one of the most important luxury travel hacks, in itself.
It doesn't matter whether you're in a city for a bachelorette party, a birthday, or a wedding – make sure to mention it to staff any chance you can. You might end up getting freebies/discounts you didn't think about!
Bang For Your Buck
If you are serious about your luxury travel budget, you might want to choose a destination where your money goes the farthest. For those who are unaware, there are plenty of international destinations where the local currency has way more value than you might be used to. This is one of those luxury travel hacks that are often overlooked, but should be considered.
Use Your Miles/Points
It doesn't matter what hotel you stay at, or which airline you fly – put your points and miles to use! What else are they there for? If you are interested in feeling "boujee" during a trip, that involves saving wherever you can. Why not utilize your existing rewards towards your trip? This is one of the most obvious luxury travel hacks in the world.
Ultimately, you can make some small adjustments that can be real luxury travel tips that might benefit you for an entire lifetime. Of course, make sure to figure out which luxury travel hacks make sense for your personality and/or group. Remember: trips are ultimately supposed to be fun, so don't spend your entire trip obsessing over a budget. Let your hair down and enjoy yourself!
Looking for more on travel? Check out our top travel destinations article.
We hope you love the products we recommend! Just so you know, Talk District may collect a share of sales or other compensation from the links on this page.