Possibly the most beautiful time of year, fall is a time to cozy up get set for some of our favorite holidays like Halloween and Thanksgiving. Fall is also a perfect time to treat yourself, so here are our top 10 fall products.
10 Best Fall Products
1. Add Some Cushion to Your Life
Switching up the interior of your home for fall doesn't have to be expensive or time-consuming. Try a few on-point accessories such as this fall-tastic throw pillow to welcome the new season into your home. Use just one as a contrast to your existing cushions or grab some in different fall colors and pile them on for a full-on fall feel. 
~Advertisement~
2. Leafing So Soon?
Lighting up the outside of your home isn't just for Christmas. We're loving these gorgeous fall leaf lights from Etsy for brightening up a front door or window. If you prefer to keep your fall decor indoors, try draping these around the top of the kitchen window or as a wall decoration in the dining room. Best of all, they'll still be vibrant and bright long after fall is over.  
3. Put a Ring on It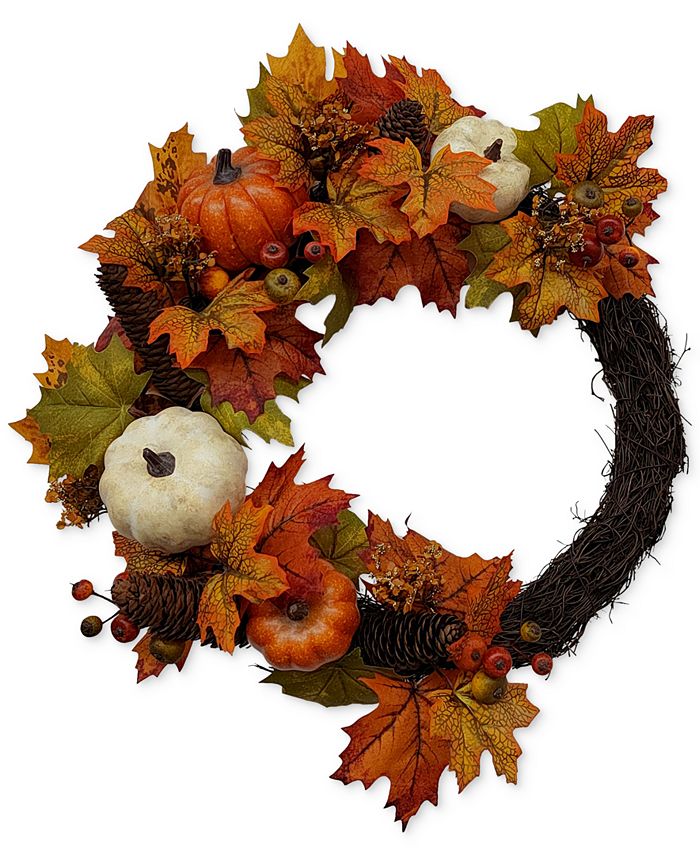 Get in the harvest festival spirit with a natural and beautiful wreath. Put it on your front door to welcome visitors or use it as a garden decoration for those final fall barbecues. For example, this pumpkin harvest wreath from Macy's is the perfect way to add some fall chic to your home without any fuss. 
4. Scent-sational Fall
Fill your home with the scent of fall with this autumn candle from Target. It comes in a glass jar with a screw-on lid to avoid spillage. There are lots of different variations of these fall products including pumpkin spice, whisky and oak, and the more traditional vanilla and bergamot. Some of our best memories are linked to scents, so make sure you make some good ones this fall. 
5. Picture Perfect
Our cameras tend to see a lot of action during this 'Grammable time of year, so we'd like to commemorate the season by turning our favorite fall photos into stunning canvas prints from Mixbook for the home. Use your favorite picture as a signature piece or put several together to form a collage of photos. There's literally no end to the possibilities here, so get creative and make your own unique and stunning wall art. You'll definitely want to capture and print the memories you make after going on some date from our list of fall date ideas for couples.
6. Home Comforts
As the days grow colder, we're looking forward to welcoming back soups, hearty stews, and delicious puddings. When it comes to comfort food, it's a shame to keep it to yourself. Why not welcome friends and family with this super cheerful fall-themed tablecloth to catch any spills as you share your treats this fall? 
7. Wake Up and Smell the Coffee – And Spice
As the weather starts getting colder, it's a great idea to make warm and delicious fall drinks. Grab some pumpkin spice coffee beans, and try your hand at making your own on-trend pumpkin spice coffee drink at home. Try experimenting with your sprinkles, too, to make the best fall products. Some favorites are cinnamon, vanilla, and, of course, chocolate.
8. Go Undercover
One of the best parts of fall is cuddling up under a cozy blanket in front of the best fall movies and shows. Big blankets make one of the best fall products, including these huge, oh-so-warm big blankets for the sofa or the bedroom. Best of all, these giant blankets are plenty big enough for two. 
9. Sugar and Spice
Fall is one of the sweetest times of the year. So show your love with these cute fridge magnets to combine two of your favorite things – fall and donuts! You can even arrange these into fall-themed shapes for some extra fun. 
10. Woven Basket
If you feel like less is more when it comes to fall decorations, these natural woven baskets from Target will add a bit of season spirit without disrupting your existing decor. Simple, elegant, and unobtrusive, these make fantastic ornaments for a minimalistic approach. Try one as a statement piece or group a few together for more impact. 
Start Decorating for Fall
If you can't get enough of all things fall, adding a touch of the season to your home is a great way to capture and keep the season for as long as possible.
For quick and cheap interior decor fixes, think warm reds and oranges, natural baskets, and of course, pumpkins. Fall products are perfect for switching up your home, and can all be easily stored away when winter arrives. If you are eager to start shopping, then check out "Top Stores with Curbside Pickup, Deliveries, and Contactless Pickup." Happy fall shopping!
We hope you love the products we recommend! Just so you know, Talk District may collect a share of sales or other compensation from the links on this page.