The holidays are just around the corner, which means it's time to look for the best holiday marketing ideas! November is always a big month for business owners. With Black Friday, Thanksgiving, Cyber Monday, and Small Business Saturday, there's no better time to go bold in your marketing strategy.
In fact, in 2020, Thanksgiving's online sales reached $5.1 billion, a 21.5% increase compared to the previous year. So, it's clear that bargain hunters are out there, ready to spend some money. But how can you get a piece of the pie? And how do you stand out from the fierce competition you may face?
In this article, we'll share our top Thanksgiving marketing ideas to help you "harvest" some buyers this November. So roll up your sleeves, and let's get to work!
6 Top Holiday Marketing Ideas
The holidays are the time of the year when families gather together, eat meals, exchange gifts, and create memories (often by shopping). As a result, retailers lay their best discounts out during this season to attract more buyers and drive up their sales. Here are 6 Thanksgiving marketing ideas to help you generate more leads and sales:
1. Start Your Offers in October
Many shoppers are out and about looking for bargain prices even before the holiday season begins. So, what better way to catch their attention than with a prolonged holiday sale? This is your chance to get in front of the right eyes before all the fuss of the holiday season begins. In fact, many holiday shoppers find the early-bird October deals the same or even better than those of the Thanksgiving weekend. And you can always keep your best discounts for the last minute.
If you have an in-person store, you can use holiday-themed tags to advertise your deals!
2. Show Appreciation Toward Your Community
The no.1 mistake marketers make during the holiday season is forgetting the human element of it. This season is all about appreciation and kindness. So, why not show some gratitude to your customers or employees for their trust and loyalty? For example, you can send them a newsletter or post on social media thanking them for their devotion. 
Alternatively, you can share your business journey to humanize your brand. These ideas will help strengthen the emotional connection between your business and your customers. As a result, they'll start perceiving your brand differently, which might be the turning point that wins them over the competition. This can drive up sales. 
3. Run a Festive Giveaway
This next holiday marketing trend idea is bound to increase your brand engagement. Contests and giveaways are surefire strategies to get customers excited about your brand. The key here is creativity. For example, you can encourage customers to share 5 items from their Thanksgiving wish list from your shop and pick 3 lucky winners that get what they want. Or, you can go charitable to give back to the community and associate your brand with the holiday season. The sky is the limit!
You can even give away prepaid Visa cards to encourage holiday cheer and more buying!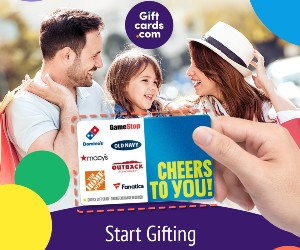 4. Sprinkle Some Thanksgiving Magic on Your Website
Why not highlight your promotional messages and deals with some pop-ups and banners to make your website more sales-oriented this season? Make sure to use popping colors and enthusiastic elements related to the Thanksgiving weekend. For example, you could add a turkey or a black theme for Black Friday. Just make sure to prepare those graphics beforehand, as well as add some apps that could skyrocket the users' experience. You could also add a countdown bar on your website's header to create a fear of missing out (FOMO).
You can also sprinkle some Thanksgiving spirit in your in-person stores! Try decorations like this wooden Thanksgiving turkey.
5. Use Instagram Stories to Understand Your Customers' Needs
With over 500 million users watching Instagram Stories daily, they're a great way to promote your holiday season sales. Specifically, Instagram Polls are a fantastic opportunity to understand your customers' latest needs and wants. For example, they can help you determine which items in your shop interest clients the most and help you plan your sales accordingly. Or, you could ask your audience when is the best time to start your seasonal sales. This will help create a connection with them while also promoting your offers.
If you want to learn more about sharing with your audience, check out these books on marketing.
6. Add Special Wrapping to Your Thanksgiving Orders
Thanksgiving gift wrapping is often overlooked, with most retailers getting busy with the frenzy of offers and promotions. But this is a stellar holiday marketing idea to add a touch of personalization and appreciation for your customers. Most people begin Christmas shopping around Thanksgiving, so why not offer a gift-wrapping service?
Ready for This Holiday Season Sale?
When it comes to holiday marketing ideas, the possibilities are endless. From early October marketing deals to giveaways and little Thanksgiving gifts, a lot can be done to drive sales. Use different channels such as social media, website, email, or physical events to get customers excited about this year's holiday offers, and let's get shopping!
We hope you love the products we recommend! Just so you know, Talk District may collect a share of sales or other compensation from the links on this page.